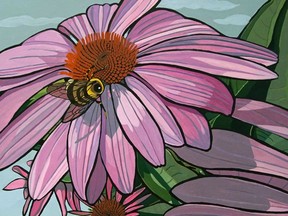 Content of the article
Artist Kelly Greene offers a lesson on the Haudenosaunee in the latest exhibition at the Glenhyrst Art Gallery.
Content of the article
In My Dreams transforms a classic 20e class of the century in Canada in a room that transmits the basic principles and the teaching of the people of the Six Nations.
Greene's interactive installation allows viewers to sit at wooden desks and practice writing lessons on the board or elsewhere in the "classroom", including lessons offered by Onondaga Faithkeeper Oren Lyons and Sidney Hill, traditional leader of the Haudenosaunee.
They explain the core beliefs of Six Nations in the short film We Are the Haudenosaunee, which is placed on the teacher's desk. Other significant items included are the Iroquois Confederacy flag, an alternate globe, and examples of Mohawk pottery and musical instruments.
The bee and echinacea painting is included in this dreamy learning environment to recognize its significance, which has been on the earth for over 100 million years. Greene dreams of a future in which bees, which are disappearing due to human activity, will continue to exist and thrive.
Content of the article
Consequently, Greene reverses the dominant iconography of the schoolroom – where images of kings, prime ministers, flags and maps of empire once hung – with an iconography entirely centered on the Six Nations.
Greene's dream classroom positions itself as a place of "empathy, understanding and exchange".
Elsewhere in the exhibition, she provides historical context to her installation which includes a hand-painted portrait of John A. Macdonald and a land recognition polling station. The result is an eclectic dreamscape of what Greene learned about her people and herself.
Of Mohawk-Oneida-Sicilian ancestry, Greene is a member of Six Nations of the Grand River and a descendant of the Turtle Clan. Her work includes painting, sculpture, installation and photography.
Content of the article
Greene has lived in London, Ontario since 1989, where she earned a fine arts degree from the University of Western Ontario. She began her studies in visual art at the University of New Mexico in Albuquerque where she moved with her family as a child.
Greene has exhibited in Canada and the United States for over 30 years in solo and group shows, primarily at the Woodland Cultural Center in Brantford. His work can be found in numerous public and private collections.
Greene's art primarily focuses on environmental and political subjects, as well as exposing still-prevalent stereotypes towards Indigenous cultures, using wry humor where possible.
The exhibition will be on view at the Glenhyrst Art Gallery in Brant, 20 Ava Rd., until September 25. Free entry.